2016/09/03
Contemporary Art in Korea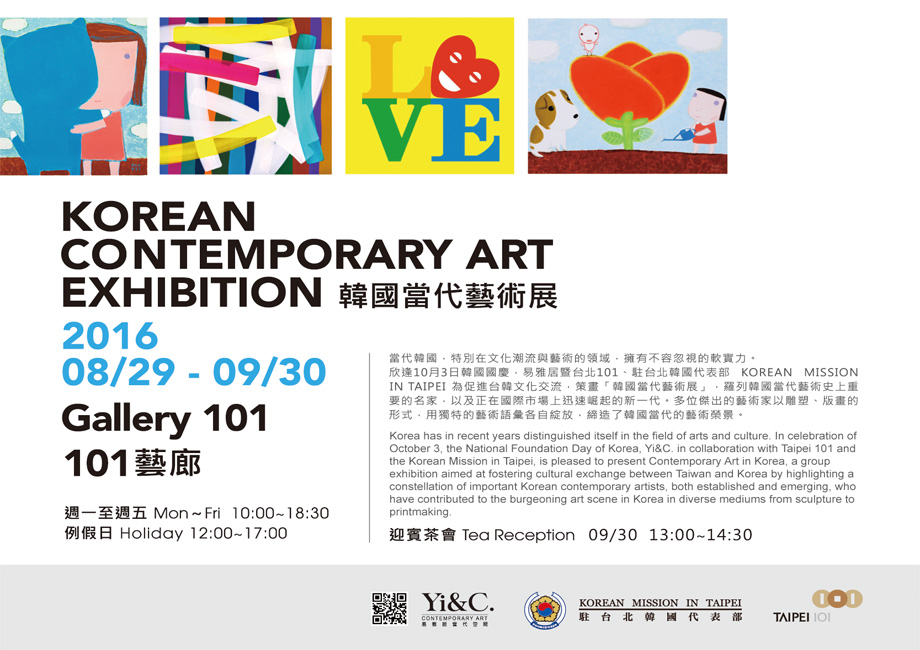 Korea has in recent years distinguished itself in the field of arts and culture. In celebration of October 3, the National Foundation Day of Korea, Yi&C. in collaboration with Taipei 101 and the Korean Mission in Taipei, is pleased to present Contemporary Art in Korea, a group exhibition aimed at fostering cultural exchange between Taiwan and Korea by highlighting a constellation of important Korean contemporary artists, both established and emerging, who have contributed to the burgeoning art scene in Korea in diverse mediums from sculpture to printmaking.
Contemporary Art in Korea opened with sculptress Gyoungmin Kim's critically acclaimed solo exhibition A Journey to Find Happiness earlier in July. Kim is known for her keen observations of the everyday, transforming moving moments from a first-time meeting, to a morning commute to work, or a joyful bike ride home with family, into three-dimensional forms that emanate an air of tender and deep happiness.

The group exhibition continues at the end of August with artists Park Seo Bo, Kim Whan Ki, Song Hyeong Noh, Yoon Byung Rock, and Ha Taelm, among others. Park Seo Bo, known as the father of the Dansaekhwa, or the Korean Monochrome Painting, is dexterous in creating repeated pencil lines on hanji, Korean traditional paper, mounted on canvas, embodying a spirituality in painting through multitudes of lines. Kim Whan Ki (1913–1974), who passed away over 40 years ago, pioneered in Korean abstract art with his clean palette and deep sense of dimensionality. Song Hyeong Noh conflates nature, animals, and inanimate objects in his painting, calling forth imagery surreally three-dimensional and unexpectedly gripping. With his paintbrush Yoon Byung Rock magnifies apples on traditional Korean rice paper in a uncanny realist approach. Also on display is a refreshing array of emerging Korean artists who have found their way into international limelight. Contemporary Art in Korea with a talented roster of Korean artists, instantiates the distinctive and booming art scene of Korea today. The varied group exhibition opens at the end of August at Gallery 101, Taipei.